RainFlo 1/2 HP Submersible Garden Pump
RainFlo 1/2 HP Submersible Garden Pump

RainFlo 1/2 HP Submersible Garden Pump - The RainFlo GP-400 Submersible Garden Pump is a cost effective, energy efficient, ultra quiet water pump. The GP-400 is a 1/2 HP submersible pump that can easily be used to supply a garden hose or drip irrigation system. The pump is built to accept a 115 volt power supply and comes standard with a 30 foot drop cord for ease of use. Additionally, the pump features an integrated, adjustable float switch for back-up run dry protection. This is a great, inexpensive pump for transferring water from one tank to another or powering a water pump.
RainFlo 1/2 HP Submersible Garden Pump Performance Curve: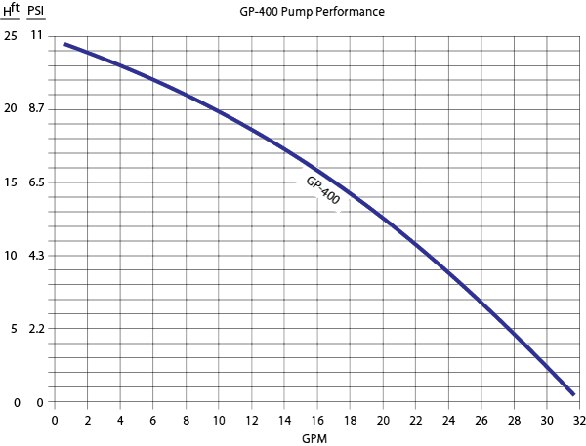 RainFlo 1/2 HP Submersible Garden Pump Specifications:
Performance range:
Flow up to 32 GPM max
Head up to 25 feet max
Inlet Size:
Screened bottom intake
Outlet size options:
Garden Hose
1.5" Thread PVC
1" Threaded PVC
3/4" Threaded PVC
1.25" Hose barb
Nominal voltage range:
110V - 120V 60 Hz; 400 Watt
Power cord:
30' Drop cord
Warranty:
1 year manufacturer warranty
Dimensions:
7" X 9" X 14"
Protection:
IP68
Certifications:
CE, UL listed
Automatically cuts off when adjustable float switch falls below 45 degrees (in the upright position)
Do not suspend from power cord or outlet plumbing
Important Operation Warnings:
The RainFlo GP-400 is designed for periodic use and is not intended for continuous operation. The recommended duty cycle is up to 4 hours ON and 1 hour OFF. DO NOT RUN DRY.
Exceeding recommended running time can cause excessive wear on pump seals shortening the life of your pump.
The GP-400 must be placed in water at least 2" deep to begin pumping. Pump should be totally submerged for proper cooling when the pump is operated for extended periods of time.
When the GP-400 is used near a swimming pool or garden pond the power supply must be equipped with a ground - fault interrupter circuit
Do not let the pump freeze in wintertime. This may cause cracking or distortion that may destroy the pump and void the warranty.